Weird Niche: Fake Doctor Notes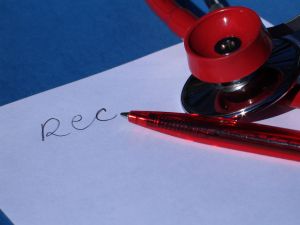 I sure hope my assistants don't read this blog post….
Fake Doctor Notes is the topic of our Weird Niche Wednesday this week.
Now, I've never had to actually produce a doctor's note at any job that I've had, so is this normal? I guess when I had my babies, I kind of had proof (since there was a baby!) — and other than that, maybe I was really lucky but my bosses never required proof that I was out sick.
However, in high school it may have come in handy to have a better reason than Mono to give to the school secretary on my doctor's note. I grew up in a small town, and anything that came through the school office was all over school in under a minute. So, having a note that said something less 'interesting' than Mono would have been nice to hand in.
I do, especially love the "female issues" doctor's notes. My husband was a high school teacher and that note would have shut him up pretty quickly — unless it was handed to him by a male student. 😉 In that case, he'd be marching that kid to the Dean's Office pretty quickly.
Lessons Learned from this Niche and Website.

1. As always "Problem + Solution = Opportunity".
2. Helping people avoid embarrassment or pain = big money.
3. Total Risk Reversal for Ordering. Any time you can not only offer a guarantee, but offer to pay someone if they are unhappy, you'll most certainly increase conversion dramatically.
4. Compare with Competition. If you notice, they've put together a chart comparing them to their competition. What better way to get a sale than to PROVE that you're the best!
I do this at EasyPLR here: Compare PLR Sites: Which is Best?. Works like a charm. 🙂
5. Validation. You see the Google logo on the page and all of the other ones? Big names that you trust are now associated with this company and this product.
I do this at NicoleDean.com. See all of the testimonials at the bottom?
There are several other gems that I see on this website that show me these folks know exactly what they're doing. Although it's a niche that I have never considered, nor would it be one that I would probably get into – it's a prime example of coming up with a service that people value.
Let me know what else you see on Fake Doctor Notes that you like! I'd like to see if you spot some of the other things that I did. 🙂
Thanks for reading. Please leave a comment.
Warmly,
Nicole