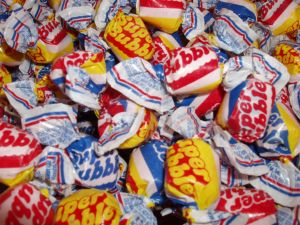 "Cleaning up gum is a sticky business… …at GumBusters, it is our job."
I've never really considered "Gum Pollution" as a problem that needed a solution, but then again, I don't own a brick and mortar business where I may have to deal with it on an ongoing basis.
Offering services to others for profit is a very solid business model.
People are two things: Busy and Busy. (If I say it once, I'll say it a million times.)
So, any time you can make their lives easier or save them time or effort, they'll usually pay for that.
Examples: I outsource all of the following…
House cleaning.
Pool service.
Getting my hair cut.
Bookkeeping  & taxes.
Getting my legs waxed.
Hauling my garbage & recycling away each week.
Getting my teeth cleaned.
And, I'll bet you outsource, too.
Somebody profits from this. Why not you?
What "odd or weird" services can you think of to offer to make some cashola?
It could be something online like being a Virtual Assistant (check out www.justaddsweat.com to get started) or something unusual like gator trapping. (Hey, if I had a gator in my pond, I'd pay big bucks to have it removed!)
Again, this is a classic example of offering a service to solve problems for people.
Headed back to relaxing on my vacation in Tennessee!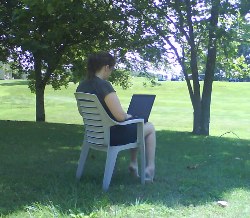 Here's a pic of me writing my Blog World Tour (Current stop is John Yeo's blog: 5 Ways to Boost Affiliate Commission.) I hope you're relaxing this summer as well.
Warmly,
Nicole Dean
PS. Let me know what service businesses you've seen that are out of the ordinary. I'd love to hear about them!