Online Success Cast #9: Ronnie Nijmeh

You are so in for a treat!  Today I'm joined by one of the sweetest people on earth, and a heck of a smart businessman to boot.
I've known Ronnie Nijmeh for less than a year, but we totally hit it off. Actually we have a joint venture or two in the works, so that's got to tell you how much of an impression he's made upon me in a short time.
Ronnie really knows how to build people up and make them want to do business with you. I mean, he really gets how to create win-win scenarios. I know that I have a heck of a time saying "no" to him.
Here's more about Ronnie:
Ronnie Nijmeh, Healthy Living Expert, Business Coach, and PLR.me Founder.
Here he describes himself in his own words:

I'm a stress management coach and trainer. I've written four books on stress management and healthy living including one I co-authored with experts Dr. Joseph Mercola, Gary Craig, Dr. Marcus Laux, & Dr. Susan Lark.

I've conducted training seminars and workshops for distinguished organizations like the University of Toronto, National Society of Leadership & Success, SelfGrowth.com, and the City of Toronto
The audio recording of our interview is at the end of this blog post. Just look for the "play" button and listen. It's free!
Enjoy these Two Free Gifts from Ronnie
Free Report: 101 Ways to Use PLR.- Grab this guide and you will certainly find ways to use the PLR that you purchase.
Paid "Must Have" Tools Recommended by Ronnie:
Service Uptime – to make sure your websites are always running.
Traffic Geyser – to get your videos serious exposure
PhonePeople.com – for handling business calls.
Amember – to run a membership site.
Viral pdf – an essential tool for every affiliate manager. I use this all the time.
1ShoppingCart – this is the cart I use to run EasyPLR.com
Free "Must Have" Tools Recommended by Ronnie:
"Must Have" Tools Mentioned for the MAC Only:
Apple iWork– MAC only for creating presentations
Automator for the MAC
Ronnie's Mentors
Alice Seba
Perry Marshall
Alex Mandossian
Me! (Yay, me!) <– 😉
Takeaway Points
Ronnie Rocks!
Failure is dished out to everyone, but it doesn't mean that you can quit.
One lucky winner will get 3 months subscription to PLR.me – Personal Development PLR Club
($213 real-world value) – Expired.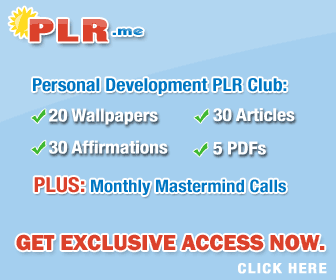 After listening to the show, comment below and you'll be entered to win.
One winner will be chosen from all "non-spam" comments by using Random.org.
The BEST comment will also receive a separate surprise prize.
PS. This audio was recorded with this tool: Easy Podcast Recording.
[display_podcast]