Get Social Marketing Results with Lynn Terry
My friend, Lynn Terry, is all over Social Media. And, unlike so many people who just hang out on social media and *think* they're being productive… She gets results.
She just put together some really cool training called "Social Marketing Results" and I'm digging into it now. In fact, I was sitting out in the hammock in the backyard reading the Guide on my iPad and I had to run in here to my computer to implement something that I had missed.
I asked Lynn if I could send her a few questions for a quick blog interview. Not surprisingly, she graciously and generously agreed.
So I'll hand it over to Lynn Terry – Enjoy!
---
Social Media Results (Interview)
with Lynn Terry
Nicole: Why does every one of my readers need to be on social media?
Lynn: Social Media is a huge source of exposure & traffic that every business should tap into. A strong objective and a solid strategy could get a new business off the ground super fast, or take any existing business to the next level.
If you're not leveraging Social Media to the max, you're really missing out!
Nicole: Why is this the course that you HAD to create?
Lynn: I have a private mastermind group that I've been working with closely now for almost a decade. Social Media has been a HOT topic in the group lately, and we've been discussing strategies in great detail. I actually set out to create a tutorial for them, for easy reference, but once I got started – it evolved into what I now consider my "Signature Product."
I discuss that in the video below. While it's a bit long at almost 10 minutes, it's just a casual conversation that gives you an inside look at my history online, and why this product excites me as much as it does!
Regarding: Social Marketing Results
Nicole: How much time should we spend per day?
Lynn: I'm a big believer in using Time Blocks for productivity. I recommend investing a mere 15-30 minutes a day. Having a consistent presence is much more important than the amount of time you spend. And having a focused strategy seriously cuts down the amount of time you *need* to spend.
Nicole: Which sites should we be on, and which should we skip
Lynn: Everyone should be on Facebook, Twitter and Google+ as a bare minimum. I recommend also securing your username at Pinterest and YouTube. And LinkedIn for service based businesses, or those that target professionals.
Which channel you should be on depends on your objective and your market. It boils down to being where those people are, and giving them what they most want and need.
Nicole: What's a big mistake you see when you do look at people who are doing social media but aren't getting results?
Lynn: I see a lot of "mistakes" cross my screen every day, but ultimately I believe it boils down to a lack of understanding – or not knowing how to properly use social media for the best results.
One of the most common "mistakes" is simply broadcasting your links across multiple channels. Basically using it as a micro-distribution channel, without taking full advantage of all the amazing ways social media can give your business a serious boost!
Nicole: How do you recommend that people track the results from their social  marketing?
Lynn: Tracking organic (free, non-paid) social marketing efforts has been a hot topic over the years. There is a way to set up tracking through Google Analytics. That said, there are some metrics that simply cannot be tracked, such as: loyalty, true engagement, brand awareness, etc.
There are also WAY more benefits to social media marketing than just the number of likes, shares, comments, etc that you can rack up. While stats are good, they give you a very limited overview of your true success with a proper Social Media Marketing Plan.
Nicole: What about automation?
Lynn: There are very few instances where I recommend automation. I cover this in my guide, along with resources to make automation super easy.
But in most cases, you want to post updates to each social channel manually, to get the most out of it. It literally only takes a few seconds to do, which I demonstrate in my training video and the live examples in the PDF guide.
Nicole: Can you please share some examples of results that YOU have gotten from Social Media.
Lynn: One of my favorite examples to share is on my niche account – I have a low carb / travel blog. I was fairly new in that niche (an "unknown") by the way. I sent out one tweet, which got noticed by a major brand AND a major market leader in my niche (due to proper strategy!) and resulted in unsolicited recommendations from them both!
What was meant to be a fun small promotion (and honestly, a test) attracted over 1,000 new highly targeted members to the Facebook group in ONE day! Was I prepared for that kind of response?? NO! (lol) But hey – that's one of those "good problems" we all like to have.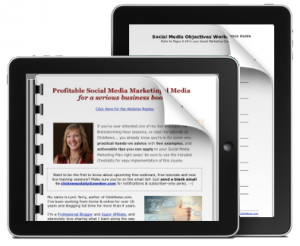 This is just one of the examples I show in great detail inside Social Marketing Results. It's a highly detailed training course that will work in any niche, with any business model – even if you do Social Media as a service for clients. (They'll love you for the results!!)
I am also helping members implement the strategies, with hands-on help in our private Facebook group, which has been a lot of fun so far.
If you're ready to stop wasting time, and start seeing RESULTS on social media… join us! You'll be amazed when you learn what all you can really achieve – and in much less time than you think.
Nicole: Why should everyone reading this sign up for your training?
Lynn: If you want to dramatically increase website traffic, make more sales, get more links, improve your search engine rankings, waste less time, and grow your business even faster… you should definitely check out Social Marketing Results!
Here's the link to check it out:  Get Social Media Results
---
Well there you have it, my friends.
Take what you want from what Lynn said. I agree with it all.
And, if you are interested in her course, you can see more details here: Get Social Media Results
Note! If you sign up now, you get 6 additional calls digging even deeper into the social media sites.
Talk soon.
Warmly,
Nicole Dean
PS. Here's what just a few of her students had to say about the training:


Here's the link again to check out Lynn's Training:
PS again. Still not sure that there's any marketing benefit to being on Facebook?
1. Facebook currently has 845 million active users.
Source: infographiclabs.com Facebook 2012 Infographic
2. Facebook accounts for 1 out of every 5 pageviews on the internet worldwide.
Source: infographiclabs.com Facebook 2012 Infographic
3. Facebookusers share over 100 billion connections collectively.
Source: infographiclabs.com Facebook 2012 Infographic
4. Over 50% of the population in North American uses Facebook.
Source: infographiclabs.com Facebook 2012 Infographic
5. 250 million photos are uploaded to Facebook daily.
Source: infographiclabs.com Facebook 2012 Infographic
6. There are 2.7 billion likes every single day on Facebook.
Source: infographiclabs.com Facebook 2012 Infographic
7. The social media giant has 425 million mobile users.
Source: infographiclabs.com Facebook 2012 Infographic
8. The average Facebook user spends 20 minutes on the site per visit
Source: infographiclabs.com Facebook 2012 Infographic

Get Results:   Social Media Results
This may be a year old, but it's still pretty darned impressive.
Check this out…
Facebook 2012 InfographicbyInfographiclabs

Here's the link one more time to check out:   Social Media Results