Nicole Dean's Rock Star Blog Summer Tour
My blog will be on vacation this summer, but I won't.
Oh no, I'll be a blogging MACHINE – on other people's blogs. I'm taking inspiration from American Idol and every other band on the planet and am having a Rock Star Summer Tour, only mine will be from blog to blog.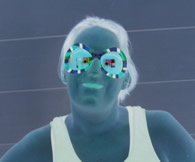 Do I look ANYTHING like a Rock Star? Maybe Elton John…
First of all, I'd like to say how honored I am that the following blog owners invited me to come and blog to their readers in the first place. You'll see I have a nice wide variety of blogs listed below and may even be talked into doing one next year if there is enough of an interest.
So, for the next few months, I'll be like Waldo and you can find me in the following places…
ROCK STAR STOPS ON MY TOUR
June 1st – Guest Post at Sparkplugging.com about Change and Transition in Business. Fear not. Change is Good!
June 1st-5th: Frugal WAHM Radio – Blog
Topic: 5 Steps to Make Money from Affiliate Programs
June 4th: Frugal WAHM Talk Radio: Podcast
June 8th-12th: Shannon Cherry's Be Heard Blog
Topic:  5 Top Ways to Use Repurposed Content To Reach Your Target Market
June 15th-19th: Lexi Rodgrigo's Work from Home Blog
Topic: Productivity when Working from Home
June 22nd-26th: Leslie Truex's Work at Home Success Blog
Topic: Common Mistakes to Avoid when Working from Home
June 29- July 3rd Odinn Sorensen's Blog
Topic: Networking Mistakes to Avoid
July 6th-10th Sherice Jacob's Web Design Blog
Topic:  How to Avoid Common Mistakes & Save Money With Outsourcing
July 13-17 Danielle Miller's Tools for the Toolbox of Life Blog
Topic: Starting a Service Based Business and Earning Passive Income
July 20-24 John Yeo's Work at Home Blog – KISS Internet Marketing
Topic: Help for Intermediate Level Bloggers Who Aren't Making Money Yet
July 27-31 Lynn Terry's Internet Marketing Tips & Reviews Blog
Topic: 5 Ways to Promote an eCourse other than Adwords
August 3-7 Bob the Teacher's Internet Marketing Lessons Blog
Topic: Online Business Lessons from _______. (It's a surprise.) 🙂
August 10-14 Mike Paetzold Recommends Blog
Topic: How to Get Ideas for your Next Blog Post
August 17-21 Easy WAHM Websites Blog
Topic: 5 Tasks that a Busy Blogger Can Outsource
August 24-28 THE Jimmy D. Brown!
Topic: Lessons I've learned from working with Jimmy the past few years.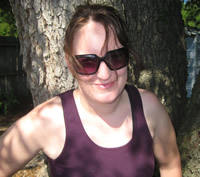 Is this one any better? Not exactly looking like trashing hotel rooms, am I? I need to work on my "tough" look.

Be sure to swing by and comment – remember, every comment you make on other blogs will help YOUR search engine optimization, so follow my blog tour, read great content, comment on my blog posts, and you'll come out of the summer ahead in your business, too!
PLUS, I'll be giving away prizes along the way. Each stop will include prizes for commenting and tweeting about the contest. The more you comment and participate, the more you'll win!
Now, I just need someone to design the "Rockin' Blog Summer Tour" t-shirts. Anyone interested? 🙂 (Thank you, Loretta!)
Let's get this party STARTED!
Nicole