Case Study: How I Wrote My Book. The Inside Scoop
Hi. 🙂  Last month, I announced to my lists that my new book is available. Yay!!!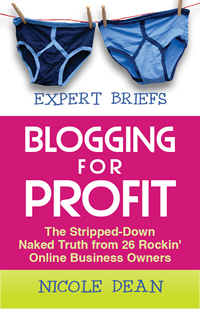 My good friend, Rachel Rofe (who will be a guest on my podcast in a few weeks) is one of the contributors to my new book. Last week, she asked me a few questions about how I got other people to write so much of my book for me.
She wanted to use it as a case study for her customers who bought her course -> Hands Off Kindle Publishing – to show that you CAN create Kindle books without doing all the work yourself.
Here's an excerpt from the interview:
Creating A Great Book: Case Study


Thank you again for your interest in Hands Off Books.

As a valued customer of mine and Nicole's, my aim is to provide you with as much value as possible.

So along those lines, we wanted to share a case study with you.

See, Nicole Dean just released an excellent book called Expert Briefs: Blogging For Profit.

I bought this book and thought Nicole did an excellent job with it.

And as I was going through it, I realized there was SO MUCH you could learn from the way Nicole put this all together.

She was brilliant about it.  In fact, I was a contributor to the book and didn't even remember until she told me.

(And THAT, my friends, is a perfect way to make it low-stress for contributors. 🙂 )

Because I felt there's a lot you could learn from this launch, I asked Nicole if she'd be open to being interviewed for your benefit.

She graciously agreed, and here we are.

So let's get started…

Rachel: Can you tell me a little bit about the book you decided to create?

Nicole: Of course. I have a series on my blog called "Expert Briefs" and have been posting it since June of 2010.

In it, each week, I ask a group of successful online business owners one question. They each send in their answers if they have something worth sharing to a dedicated email address for this purpose. My Virtual Assistant compiles the responses into a blog post in the order of how the emails are received.
————————————————————————
Note from Rachel:
Nicole makes this SO easy for people. Here's an example of one of her emails…
You can read the full case study, here:

Right Click and Save the pdf:
Nicole Dean Book Case Study (pdf)
I appreciate you much. THANK YOU for sharing this day with me.
Warmly,
Nicole Dean
PS. Here are the Kindle Resources that I Recommend –
These are my favorite Kindle resources that I've personally bought and enjoyed. All just happen to be by Rachel.