Profitable Blogging: Available Now on Amazon
Hi. 🙂  Yesterday, I announced to my lists that my new book is available. Yay!!!
Isn't it pretty? I love it so much.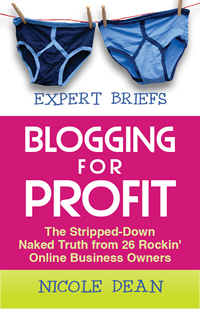 We've already hit "Best Seller" status on several categories on Amazon and it's pretty flippin' exciting if I do say so myself. 🙂
See? Actually I had two books in Best Sellers in the Web Marketing category this morning #1 in Paid and #3 in Free.
I'm learning a lot about what to do and what NOT to do when you release a new book – and will share some of that tomorrow.
In the meantime, I wanted to let you know that there are bonuses available this week only for those who buy my new book.
Here's what to do.
1. Grab a copy of the book in either Kindle or Paperback.
Kindle (only $4.99) or Paperback
2. Sign up to get the bonuses (including 5 brand new interviews) here:
http://blogcpr.com/book-party/
3. Pretty please leave a review on Amazon after you've had a chance to dig into the book.
I appreciate you much. THANK YOU for sharing this day with me.
Warmly,
Nicole Dean
PS. You want to know something cool?
I only wrote about 1/2 of the book.
The rest? I got smart, successful people like Connie Green, Willie Crawford, Pat Flynn, and Lynn Terry to write for me – for FREE!
If you're on my lists, you know that the other day when I told you about Rachel Rofe's new course, Hands Free Kindle – How to Publish Kindle Books Even if You Can't Write?
Well, yeah. It pretty much works. 😉 Check that out here if you haven't grabbed it yet