Back from Willie Crawford's Live Event
Hey guys!
I've been a jet-setting queen the last few weeks — off to StomperNet Live 7 in Atlanta in early March and then down to Willie Crawford's 50th Birthday Bash in Orlando last weekend. (I might just be crazy enough to go to another event later this month!)

I've been asked about both events — if I had fun, who I met, and how they were overall.
Here's the scoop. The two events were complete opposites, so I feel that I benefited differently (and greatly) from each.
StomperNet Live 7
Where: Held in Downtown Atlanta in a Hyatt.
Who: I'd estimate about 200 people there, but could be totally off.
What: Friday – Saturday speakers from 9-6 each day.
My Roomie:  Tracy Roberts, my awesomest  Virtual Assistant and friend.
Speakers included: Dan Thies, David Bullock, Perry Belcher, and the amazing Stephen Pierce, as well as others from the Stompernet Faculty.
Content provided: Actionable internet marketing advice. Solid online tactics. Left with a to-do list a mile long.
Pitches: None. There was nothing for sale. Just solid content.
Networking: I'm not sure if it was the size of the crowd or the types of businesses that the others had, but I didn't find the networking to be very personal. Went to bed fairly early. No major "love" connections. (I'm married. I mean for my business!) Although I did meet Mr. George Williams who will be a long-time friend.
Highlights: Perry Belcher's speech was inspiring, informative, and entertaining to the tune of almost peeing my pants. Yes, it was THAT good.
Feeling afterward: Like I'd just finished my Final Exams and found out that there was another round. My brain was tired, but I also knew that there's more work to do. However, very excited to have actionable items on my list.
How was the Sushi? Excellent! I discovered a "Las Vegas" roll that has a jalapeno on top. YUMMY!
Photos: none
Willie Crawford's Birthday Event
Where: Held in Downtown Orlando in a  Crowne Plaza.
Who: I'd estimate about 40 people there, but could be off.
What: Friday – Saturday speakers from 9-6 each day.
My Roomie: Lynn Terry – Yes, THAT Lynn Terry. I was so nervous meeting her, but we were just like old friends in no time.
Speakers included: Felicia Slattery, The Niche Prof, Kathleen Gage, Rob Canyon, Mark Hendricks, David Preston, Sam Crowley, Kevin "Mr. Ebay" Johnson, Shel Horowitz, Laura Fenamore, and again, the amazing Stephen Pierce.
Content provided: Not really any advanced internet marketing information overall. More business sense and overall motivation strategies. However, I did leave motivated and ready to kick butt afterwards, so it's something that benefited me hugely, obviously.
Sales Pitches: Yes. Oddly, every speech (except Lynn's) ended with a pitch for an item around $2000. I guess I don't understand the speakers' circuit very well.  I would have easily dropped $100-300 on each of at least half of the speakers, but the larger packages that were offered were just "too much information", mostly videos (which you guys know that I don't do) and would require my time — something that is worth more to me than money. Rob Canyon was the exception as he offered a really cool business coaching (one-on-one) plan that appealed to me very much.  So, I'll probably go check out some of their products and see if there's anything a bit more "bite-sized" for me.
Networking: Phenomenal. Seriously. I got to hang out with Bob the Teacher (who rocks!), Felicia, Lynn, Sam, Rob, and Willie Crawford (of course). I also got to meet Elizabeth Ashe (who I've known and emailed online for at least a year), Paul Richardson & Elmer Hurlstone the Photographer/Writer/Editor. Plus, my Tracy Roberts friend was there, too. And, that's just a few of the amazing, creative people there. I got to meet one of my affiliates who will now be helping me with some of my blogs. (Total sweetheart.)  I got about 4 hours of sleep every night and several times laughed until I cried. Leaving was very hard, almost like the last day of summer camp.
Feeling afterward: Like I'd been on vacation. Came back focused, energized, and ready to double my income. Feeling like a ROCK STAR!
How was the Sushi? Excellent! I discovered DEEP FRIED sushi! YUMMY!
Photos: Oh yeah! Coming soon… In the meantime, here's one to hold you over. This is me, watching Lynn's presentation onstage. (I'm the ponytail with the ears!)  Tracy is next to me in the blue shirt.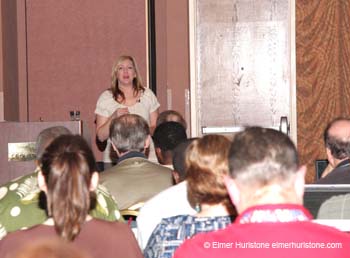 Note: I ran out of Twitter copy/paste energy. Those who aren't linked above, feel free to mention your Twitter URL and give your thoughts about the conference below.
More pics soon!
Nicole