Free Internet Marketing PLR
Hey.
My friend, Melissa Ingold, announced that she's offering some FREE internet marketing PLR all about facebook advertising.
"Download Your FREE Previously Unreleased PLR Report about Facebook!"
Today you can get a free PLR Report entitled "How to Plan & Profit From Facebook Advertising".
Here's what's in this no-charge offer:
-> Report (8 pages)
-> Handy printable planning sheet (2 pages)
-> Squeeze page for building a mailing list
-> Ecovers to give your report a professional look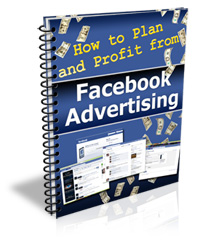 Download this free PLR workbook and checklist.
Click here to Download the Free Facebook PLR
Be sure to read the offer on the download page. You can get a sweet deal on more PLR like this one.
Here's an excerpt from the report:
What This Report Is Designed to Accomplish

This report operates under the assumption that you already have a Facebook Account. If you do not, you'll need to register – it's free.
This report walks you through the five steps required to plan and profit from Facebook Advertising. The steps include:

Step #1What Are Your Goals?
Step #2 Who is Your Audience?
Step #3 Design Your Advertisement
Step #4 Establish Your Budget and Pricing
Step #5 Track the Data!

We'll wrap it up with a quick list of tips to maximize your Facebook Advertising success. So let's get started!
That's it for today. Have a great weekend!
Warmly,
Nicole Dean
PS. If you're looking for more FREE Internet Marketing PLR, I've also got some for you that I use to attract affiliates to my programs.
Here's the deal: Free Internet Marketing PLR Reports & Articles