I've been slacking in getting my picture updated. I love my baseball cap, but it doesn't work when I do interviews.
So… today, I gave my 11 year old son my digital camera and we did a photo shoot in the backyard. I really *despise* having my picture taken, so he was the only one who I trusted not to laugh at me. (I love my boy!)
He took about 50 pictures. I loaded them up to my computer, but this is how I felt when I looked through all of the pictures (and yes, this is one of them, lol):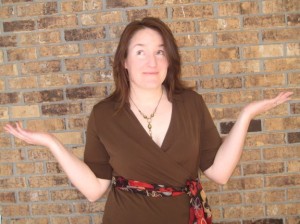 What does this have to do with Outsourcing? Well, after I had him take the pictures, I looked through them, and, of course, didn't like any of them. (Anyone else not like pictures of themselves?)
So… I zipped them up and shot them out to my helpers to choose 5-10 that they liked.  That helped me to eliminate quite a few.
I know — I'm going to start paying them hazard pay. 😉
I got some great feedback about the impression that each picture gave them of me.
My favorite picture, I was told, made me look too vulnerable. I thought that it made me look trustworthy.
Another that I liked, I was told made me look like a sexpot! So, that one obviously isn't going up here. (Thanks, Mom, for that!)
I very often see people post pictures of themselves that look downright odd or creepy and I wonder "didn't they get feedback first?" If you don't want to show family or friends — send them to your Virtual Assistants!
Warmly,
Nicole
PS> Do you have any creative Outsourcing experiences? Please post below.