Free PLR Content: Lots of it…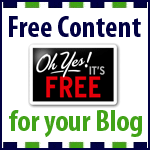 Hi I'm back with another "FREE Money-Making Content for You"Friday!
Friday is the day where I give you free content that you can use in your business. Hurray!
Today, I have something a little different.
I decided to offer more free PLR and whipped this up today: Holy Free PLR, Batman!
I'll be finding (and also creating) free PLR in a variety of niches that you can use. Some you may have seen before, but much will be BRAND-spankin' new!
And, as of the moment I post it, NONE of the PLR offers will require any kind of optin or hoops for you to jump through. I can't guarantee that links won't change, if I link to another site, but at the time I'm posting it, it's 100% totally free and ready to grab.
So head on over here to get it ->  Totally Free PLR Articles & Reports & More
Warmly,
Nicole Dean