Free Content for your Blog: My New Graphics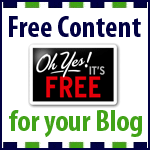 Hi I'm back with another "FREE Money-Making Content for You"Friday!
Friday is the day where I give you free content that you can use on your blog – with your affiliate link, to make money with. Hurray!
Not only that, but it's copy/paste ready for you to profit.
Yep. You can make money by publishing free stuff. Pretty cool eh?
So, what do I have for you today? My new graphics that I've been posting all week. (I have plenty more, but they'll roll out once a week for the rest of them so you can enjoy them for months to come.)
Here are the graphics (or you can download them below):
Of course, rules apply.
1. Yes, you can use them in your blog posts, on Facebook, Pinterest or wherever the heck you'd like.
2. They can not be edited in any way. They have to stay as is.
Sound good? If so, download them here.
How can you make money with these?
Feel free to promote anything of mine along with these graphics. AND link the graphics with your affiliate link, too, in case people click it. 🙂
You'll find all of my affiliate programs listed here: Nicole Dean Affiliate Programs
Thanks!
Warmly,
Nicole Dean