Creative Ideas: What Can you Outsource on Fiverr.com?
We're working on a PLR package for EasyPLR.com all about Fiverr.com so I've been poking around there more than usual lately.
I've seen some really strange and very clever gigs posted there recently and thought it would be fun to share here.
What is Fiverr.com?
It's a site where you can basically get people to do just about anything for only $5.
Here's how it works…

What does this have to do with business?
I narrowed it down to Graphics, Videos, and Audios that people are willing to do to endorse/promote your business and chose a few that I thought were interesting.
So, here are some things that people will do for you for $5 on Fiverr.com that you can use in promoting your business…
Disclaimer: I can't guarantee any of these gigs. Just giving you some ideas for promoting your business (or making money on Fiverr.com) 🙂
---
GRAPHICS

Get a photo of happy fingers holding your message.

Get a photo of a dog holding your logo.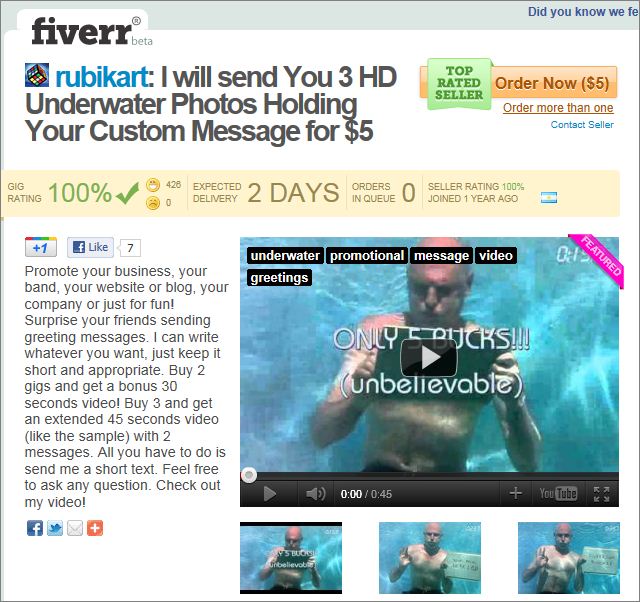 Get a photo of an underwater dude holding your message.
---
VOICES

This guy will say anything you like in just about any cartoon voice you could ever want.
Want something said in a sexy James Bond voice? This guy will do it.
---
VIDEOS

This guy will sing or say your message in the shower. (No nudity.)
Chinelope is for hire to promote your website.

Dream of having a hamster endorse your product? Click here.

Want a guy behind a bar to talk about your product? You got it.
---
I hope you've enjoyed this and have fun poking around Fiverr.com. 🙂
Warmly,
Nicole Dean
PS. I created this blog post using an article template that you can find here: Free Article Templates