Gimp Tutorials: Create Free Graphics with Gimp
A lot of people struggle with creating or even just editing graphics. In fact, my own mom asks me about graphics on a regular basis. 🙂 See what happens when you teach your mom to be a blogger? (Love you, mom!)
I'm not sure if you're aware, but there's a totally free (yet powerful) graphics program that a lot of people online use. It's called GIMP.

You can get it free here. I use it, too.
http://www.gimp.org/downloads/
To Download, go to the link above, and then click where it says…
You'll get a box that pops up and asks you whether or not you want to save the file. You do.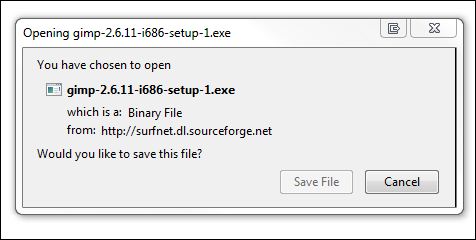 Then the fun begins. 🙂
Well, if you like messing around with graphics, you might think it's fun. If not, then you might want to keep reading…
I'm kind of awesome at a lot of areas of online business, but, of course, there are a few areas where I totally stink.
Like graphics.
Seriously, it's like watching me try to pick fly poop out of pepper while wearing boxing gloves. (Translation: Totally ineffective.)
It's one of the things that I gladly outsource.
HOWEVER… there's a problem with outsourcing your graphics.
You become a slave to every teeny-tiny change you want to make. Both in time (waiting for something simple to be done) and in money (paying someone else to do something that you really should be able to do yourself) — at least the smaller graphics problems like I'm going to touch on here.
For instance, little things like changing one word in a graphic or resizing something to totally different proportions or trying to add arrows or highlight screenshots in a way that looks like it was done by someone over the age of 3. 🙂
I learned the basics and I can now do enough to get myself into trouble — and even sometimes back out of it.
Why am I sharing this? For three reasons.
1. I'm very human. Very imperfect. Yet, very profitable. You can succeed without "knowing it all". God knows I don't.
2. I realized that YOU might be struggling with this issue, too.
3. A lot of people who read my blog are service providers — or need money quickly. Adding more skills to your repertoire is always a good thing.
The good news is that there is GIMP which I mentioned is a totally free graphics program that rivals the expensive ones out there. And the even better news is that now you can learn how to use it (save $10 with coupon below).
A gal by the name of Angela Wills, who happens to be one of my coaching clients, mentioned that she was running periodic "How to Use Gimp" workshops. We brainstormed a new outline that would be the course that I wish that I'd had. She created it. It's good. So, I wanted to let you know in case you need some help in this department. 😉
Check it out here…
Save Money. Use Gimp.
Enter this special coupon code if you decide to grab it to get $10 off.
Coupon Code: nicolerocks
That's it for today! Have a wonderful day.
Warmly,
Nicole Dean