Online Success Cast #18: Susanne Myers

Welcome to another episode of the Online Business Success Cast.
This week, I have one of my best friends in the whole world with me – Susanne Myers of Niche Affiliate Research Packs and HillbillyHousewife.com.
Not only is Susanne a great friend, but she is a brilliant marketer. She's been behind-the-scenes making a living with niche sites for several years, but has recently started sharing her marketing knowledge as well, so I quickly grabbed her for this interview.
The audio recording of our interview is at the end of this blog post. Just look for the "play" button and listen. It's free!
Here's more about Susanne in her own words so you can see why I think she's cool:
Susanne Myers has been making a full-time income as an Affiliate Marketer for the past three years.
Until recently she has only occasionally brainstormed with a few close friends and her only student was her husband who was also able to quit his day job 2 years ago.
But, that's starting to change with the launch of her new site selling Affiliate Niche Research Packs that you may have seen me promoting here.
Susanne also wrote a guest post here awhile ago, that I'd like to recommend you check out: Tools that Help you Make Money with an Affiliate Program
[display_podcast]
"Must Have" Online Business Tools Recommended by Susanne:
SEO Elite
Studio Press
WordPress.org
Google Keyword Tool
Free WordTracker Tool
Google Analytics
Check out Susanne's Niche Research Packs: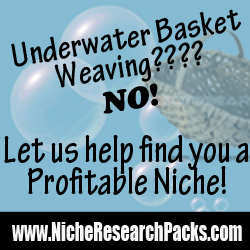 Be sure to post your comments below. I'd love to hear what you learned and will apply from this interview.
Plus, one lucky listener can win the Niche Research Pack of their choice. The Winner will be posted in approximately a month, as usual. 🙂
Warmly,
Nicole Dean
PS. If you can make a phone call, you can have a podcast like mine: Click to learn  How to Record a Phone Interview like I do.