5 Free PLR Recipes with Images: Content for your Blog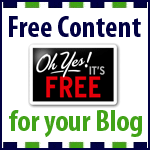 Hi I'm back with another "FREE Money-Making Content for You"Friday!
Friday is the day where I often give you free content that you can use on your blog. Hurray!
So, what do I have for you today?
Five Veggie Recipes (including 8 Photos)
with PLR Rights!
They include:
Grilled Eggplant with Fresh Herbs
Oven-Baked Summer Squash Fries
Simple and Delicious Vegetarian Dinner
Sweet Maple Green Beans
Simple Grilled Fennel

Click here to get the FREE PLR Recipes.
Thanks!
Warmly,
Nicole Dean
RECOMMENDED RESOURCE: If you're looking for more beautiful photos of food and top-notch content… 
please check out my friend, Trish's site: Kitchen PLR Content.
Examples: