Free Reviews for your Blog: Unlimited PLR Rights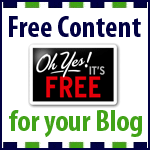 Hi I'm back with another "FREE Money-Making Content for Your Blog" Friday!
Friday is the day where I give you free content that you can use on your blog. Hurray!
I'm trying a little experiment and would like to give you some free product reviews and an article – all with totally unrestricted PLR rights.
Now, mind you, it's self-serving. All of the products in the reviews are mine. 😉
So, you can use the reviews as drafts to write your own reviews, edit them, add your opinions (hopefully good ones), and throw in your affiliate link.
Voila! Instant money-making content.
Take a peek and see if you can use them here…
Click for Free Product Reviews with PLR Rights
On a less self-serving note, here's some other free PLR.
Click for Free PLR Content
That's it for today. Have a great weekend!
Warmly,
Nicole Dean